For the sixth year in a row, the Mediterranean diet, which emphasises consuming fruits, vegetables, olive oil, and fish, has taken the top spot in the US News and World Report's annual rankings of the best diet plans. For the feat, the diet — which takes its name from the food pattern followed by many in countries in the Mediterranean region, such as Spain, Greece, Italy, and France — scored a whopping 4.6 out of 5.0. Two other diets that are tied for the second spot are the DASH (Dietary Approaches to Stop Hypertension) diet, which fights high blood pressure and emphasises fruits, vegetables, whole grains, lean protein, and low-fat dairy with an overall score was 4.5; and the Flexitarian diet that focuses on fruits, vegetables, and other healthy foods but also allows occasional meat. The overall score was 4.3.
The report mentioned that this time, 24 diets were ranked as opposed to 40 in the preceding year. The categories ranged from best weight loss diet, easiest one to follow, or plans for other goals, such as managing diabetes or heart disease. This time, two new categories were added: best diets for bone and joint health and best family-friendly diets. Here's a full list.
"If your goal is to manage your weight long term and eat healthfully, try one of these science-backed diets that work. Each earns top marks from our panel of leading medical and nutrition experts, specialising in diabetes, heart health, and weight loss. Our panelists reviewed each diet and rated them for healthiness, safety, ease of following, and promoting a healthy, sustainable lifestyle," it further noted.
Dr Priyanka Rohatgi, chief clinical dietician, Apollo Hospitals, Bangalore, said that in principle, these diets are good and backed with good evidence. "One must ensure it is personalised and sustainable to keep the momentum on. Calorie deficit diets with fresh and clean eating is best, where one can build up on proteins, natural foods and eat clean and fresh," Dr Rohatgi noted.
What does the Mediterranean diet include?
Mediterranean diet includes consuming more of fruits, vegetables, whole grains, nuts, lentils, olive oil as a source for fat, moderate amounts of fish, rich omega 3 fatty acids, no meat or red meat, little poultry, moderate amount of yoghurt and cheese, and avoiding sugar, butter or packaged and processed foods.
Does Mediterranean diet help diabetics?
Mediterranean diet focuses on consuming plant-based food and healthy fats. This diet focuses on an individual's eating patterns and can be customised based on one's medical history, said Zoya Surve, dietician, Bhatia Hospital Mumbai. "Mediterranean diet can help manage diabetes as it includes whole grains, pulses and lentils contributing to complex carbohydrates in the diet. This helps to maintain blood glucose levels for a long time. Since the diet advises no-sugar, it helps to avoid an increase in blood glucose levels," Surve said.
Does it also help the heart?
Mediterranean diet limits saturated fats and trans fats, which are required in limited amounts in the body. "Excess amounts of saturated fats can increase the low-density level cholesterol that is the bad cholesterol in the body and leads to atherosclerosis (the buildup of fats, cholesterol and other substances in and on the artery walls). This diet encourages healthy unsaturated fats and omega 3 fatty acids, thereby promoting healthy cholesterol levels leading to healthy heart," Surve told indianexpress.com.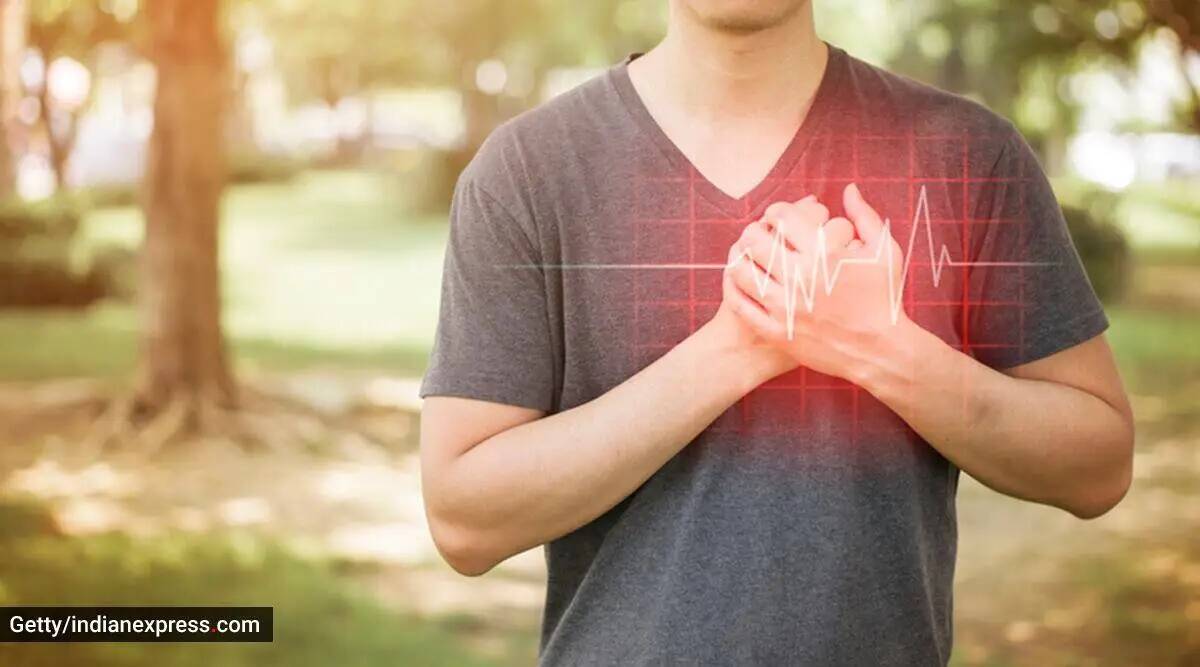 Here's how this diet helps your heart health (Source: Getty Images/Thinkstock)
"This diet also includes antioxidants which helps in eliminating free radicals. It also limits sodium intake, which is good for maintaining blood pressure. High sodium intake can increase blood pressure leading to increase of heart attack or stroke," Surve added.
How does aid weight loss?
Mediterranean diet includes foods rich in fibre, which gives satiety, elaborated Surve. "Apart from satiety, avoidance of sugar and unhealthy fats helps in weight management. Fibre also helps in avoiding constipation and maintaining healthy gut and excretory system," Surve said.
📣 For more lifestyle news, follow us on Instagram | Twitter | Facebook and don't miss out on the latest updates!